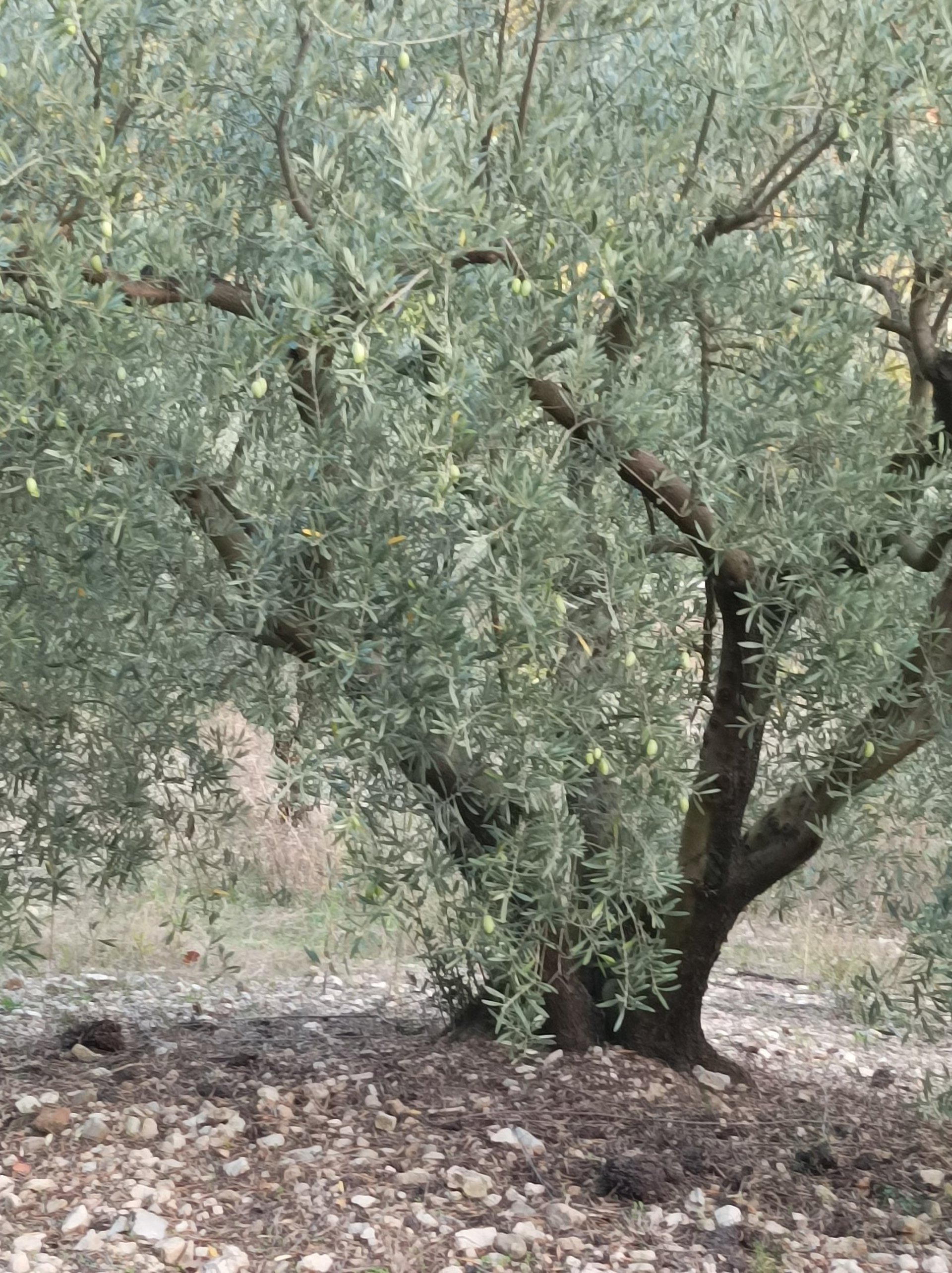 The Olive Harvest.
Climate change and the olive harvest
FOOD, WINE AND HOMETRAVEL THROUGH FRANCE
First the bad news. Olive harvests in many European countries have been badly affected by drought, extreme temperatures and wild fires,particularly Spain which supplies half of the world's needs, and also Italy and Greece. Other countries like Syria and Turkey have stopped exporting it. If you like cooking with olive oil ,as I do, you may be distressed to learn that there will be severe shortages this year. Apparently one of Europe's biggest olive oil suppliers Filippo Berio is having to import olive oil from South America.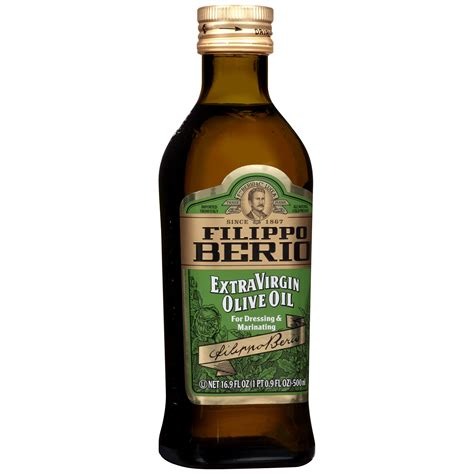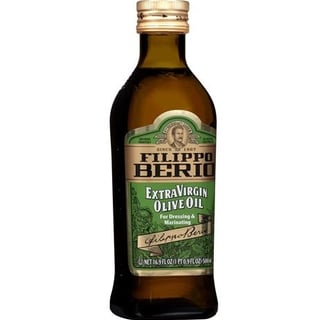 Feeling slightly concerned we stopped by Roland, the olive grower's house to ask about the situation in France. He was busy preparing the tines on his harrow, for work in his olive groves. He tells us that all should be well with the harvest in France this year. He has already harvested his Lucques olives (see below) and the harvest was only slightly down. You may well remember that we visited him last November to collect our yearly ten litres . Did we want the same again this year, he asked? Much to our relief, he should be able to supply it. If it is as delicious and fruity as last year's oil, we shall be very happy. I generally reserve it for making salad dressings and mayonnaise, rather than frying. It is very special. You may also remember Jacques the roadside peach seller from Soubès. He tells us that he is now getting ready to harvest his olive trees, and predicts a reasonable harvest. Although France has had a hot summer, it has not suffered as badly as other parts of Southern Europe, but I don't feel too complacent about future olive harvests.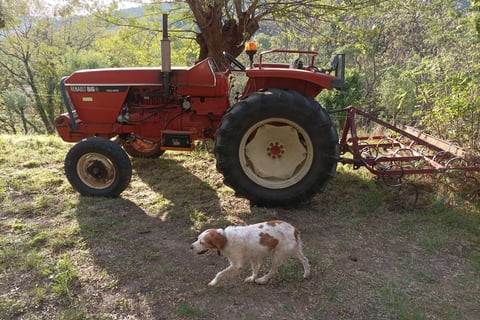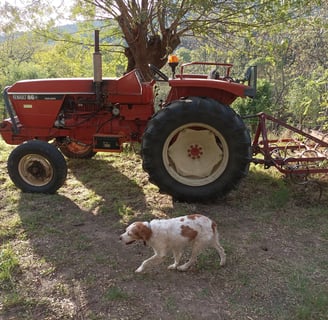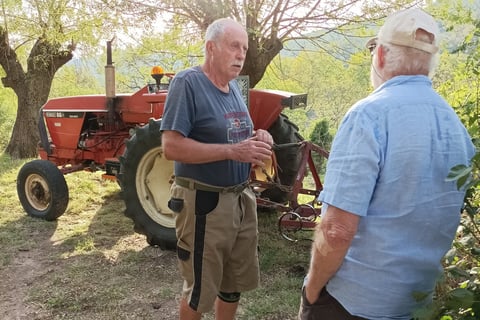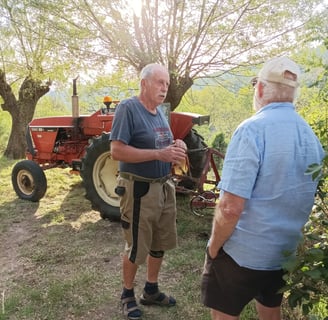 Although the lucques olive is grown elsewhere, it is considered to be a speciality of Hérault. It is a longer shaped olive with a crunchy, texture. People describe its flavour as rather 'meaty'. We stopped by Roland's trees which had been harvested, and saw quite a few Lucques that had been missed. If you remember my blog about the French custom of gleaning , you will know that any member of the public would now have the right to go along and gather up the rest of the crop. However , I think we will give that a miss!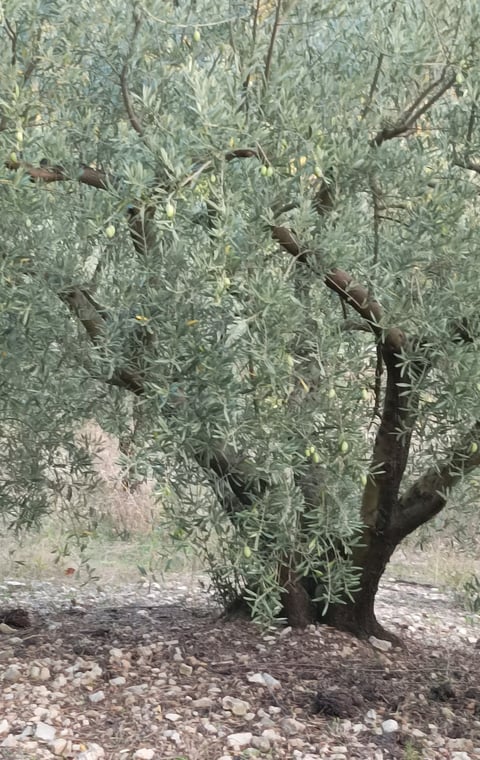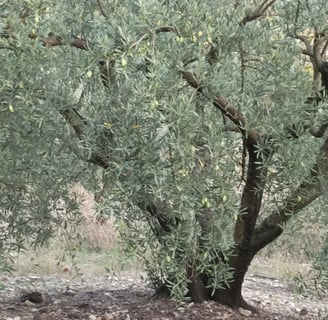 There are two main olive producers in our village. The second, M Bousquet, markets olives as well as olive oil. Here are his Lucques olives on sale in Camille's shop. The black olives are harvested later in the season.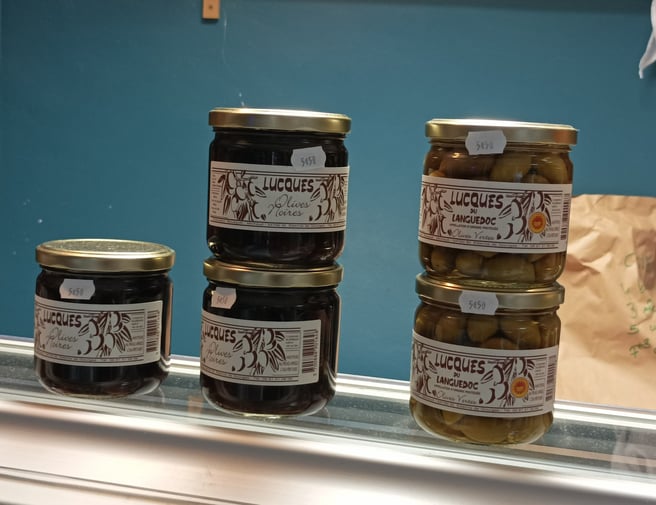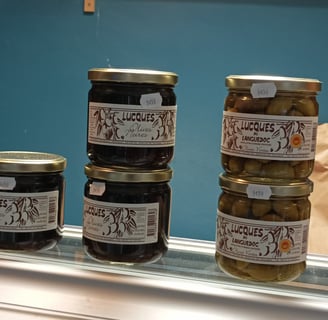 But olive farming is not always easy. In 2015 we had a terrible localised flood in our valley and M. Bousquet not only lost about 30 olive trees, which were literally ripped away, but his land was ravaged and filled with rock and stone. He has since recultivated the land and planted more olive trees. His older olive grove, which lies above the valley survived intact.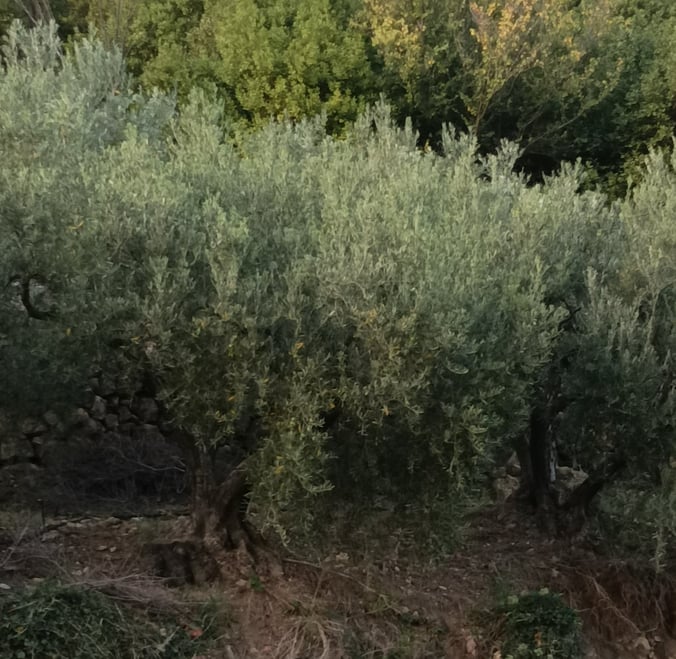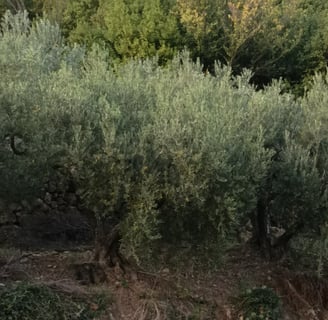 Notice the very old and gnarled trunk of this tree. In 1956 olive trees in the south of France were hit by a devastating frost, which froze the sap. Many many trees died . Those that survived , like this one, were amputated at the base, and subsequently four or five new main branches sprouted from the old root system. You can also see this clearly in Roland's lucques tree (above).
If you are a connoisseur of olives, then there is no better place to find a wide selection, black olives, green olives, pimentées , lucques, picholines and more , than at a traditional French market. The most common variety to be found in Hérault is the Picholine.