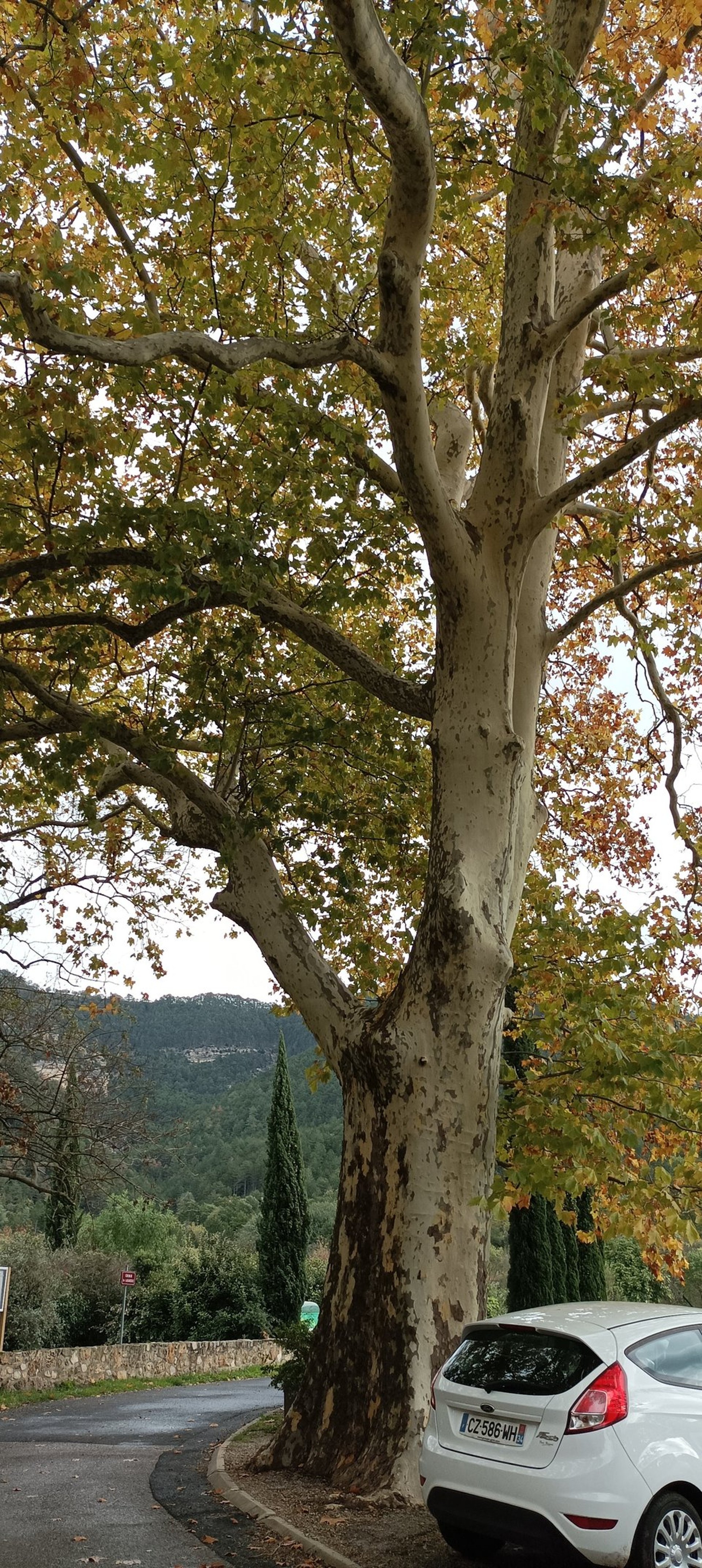 Nominations are Open
Name your Tree of the Year
FLORA AND FAUNA AND THE FOREST WORLDCLIMATE CHANGE
What is it about a tree than can capture our emotions? Judging by the furious reaction to the illegal felling of the famous sycamore tree in my native Northumberland, many people can be captivated by one single tree. Looking at a picture of it as it stood in an isolated spot next to Hadrian's wall , I can well understand why. Individuals and organisations have reacted with sorrow and rage at the irrevocable loss. Planted by a landowner in the late 19C, it was photographed and visited may times and has even been the scene of marriage proposals and the scattering of ashes.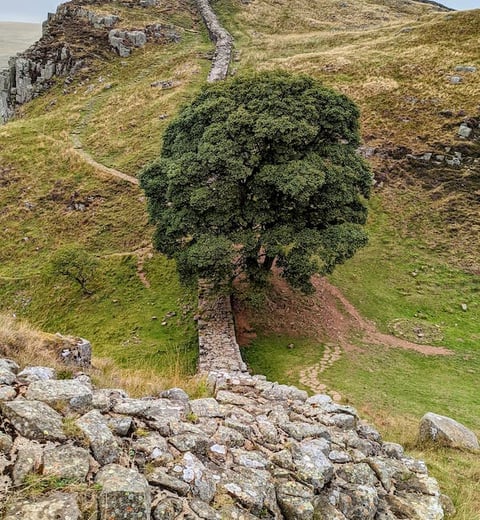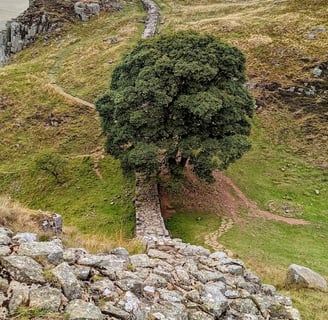 Every year, until recently, the Guardian newspaper would invite readers to nominate their favourite tree, and that would often make me reflect on which one I would nominate. When I lived in Marlborough Wiltshire, I decided it would be an old dead oak that stood alongside the road that passes by Savernake Forest. Why would you nominate a dead tree stump, you may well ask? "Well," I would answer "it has never failed to remind me of the baobab tree that one sees in Zimbabwe, with its archetypal shaped squat trunk". Every time we passed by the tree in Savernake forest it would remind me of Africa. More than twenty years later it still stands there proudly.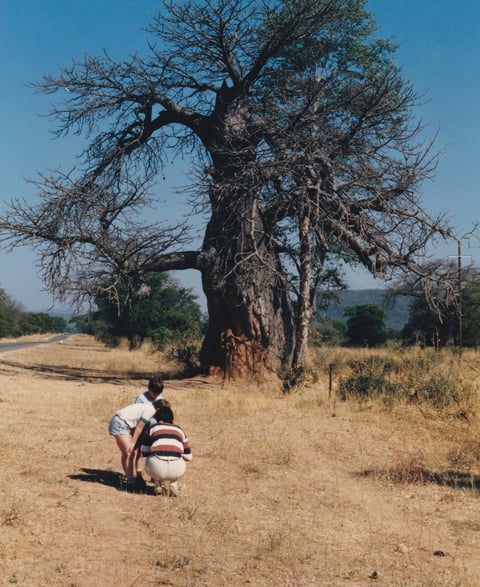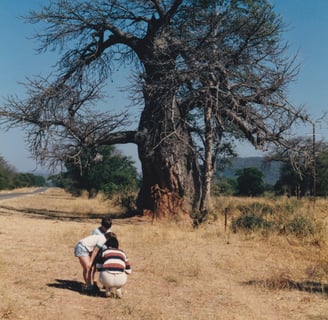 Here , we are breaking open the baobab fruit in Africa to reveal the cream of tartar inside.
The British Woodlands Trust also holds a similar competition. Recent winners have been an ancient yew and a sweet chestnut. But the trees that have most fired people's imaginations have often been in towns , where they represent a vital connection with nature. I well remember the anger that Sheffield Council aroused when they planned to fell 17,500 established trees and replace them with saplings. Many residents protested, and some people were even jailed. The Sheffield city council have since said that they regret their actions.
Sheffield Chain Saw Massacre
When you live in a forest, as we do, it is very difficult to choose one's favourite tree. Whilst we are surrounded by thousands and thousands of boring black Austrian pines, there are many other beautiful species growing amongst them. Some like the Montpellier maples have self seeded, whilst other trees like the stately cypresses, have obviously been planted. What's more, in small selected areas where pine trees have been commercially felled by the National forest authority(ONF), new experimental tree planting schemes are underway, to include more broad leaved varieties. By diversifying, it is hoped that our forests will become more resistant to climate change.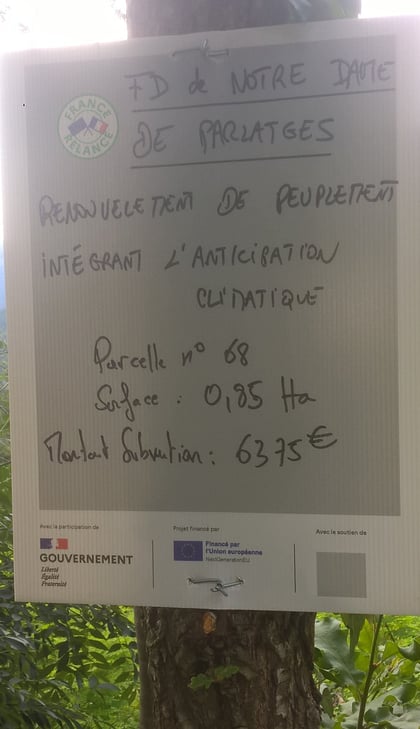 Now, here are my nominations for 'Domaine des Rochers Favourite Tree of the Year.' I would love to hear from you if you would like to tell me about yours.
As winter draws close we spend more time indoors, and take our meals in the lounge. Just outside our window there is an ash tree. At the moment its leaves are still green , but browning ash keys make it look a little dishevelled. In summer our blinds are closed to shut out the intense heat of the midi. But now they have been raised and the ash tree is revealed. While normally it would obscure our view of the mountains, soon the leaves will fall and we will see the cliffs behind. But there is something very special about this tree, for in winter it is full of small birds. Blue tits, robins, black caps, chaffinches and great tits all hop about its branches. They drop to the ground before swooping up again in impressive displays of aerobatics. Other birds like bullfinches or a flock of long tailed tits may occasionally drop by. All winter long, and especially at breakfast, we love to watch them. We hang fat balls from the balcony to attract the tits, while dunnocks, and a wren occasionally pop in to pick up the crumbs. Last year we watched as the struggling dunnock eventually mastered the art of flying up to hang from the fat ball. We wonder whether he will have retained his new skill this year. This ash is very special to us. it receives our first nomination.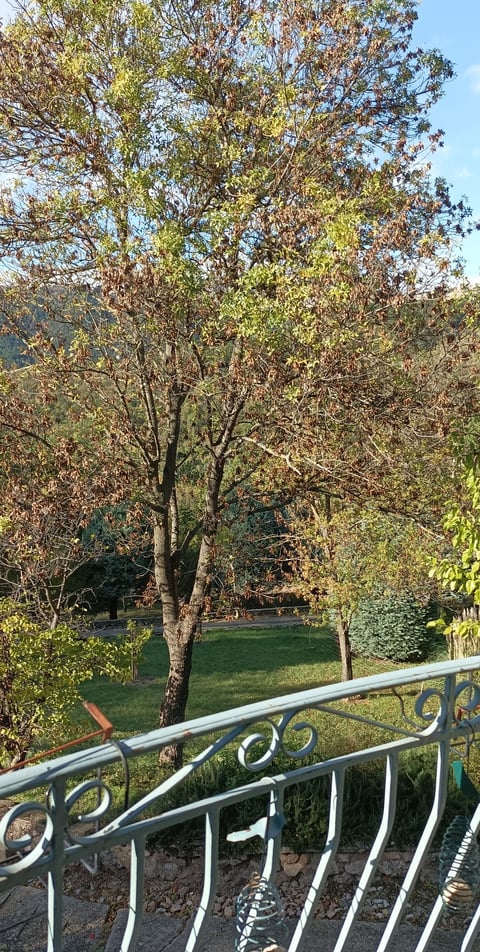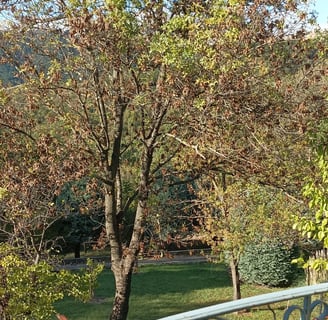 In France the tall stately Italian cypress tree is often associated with a home and is thought to bring good luck. Clearly the magnificent tree that grows by our house was planted around the same time as the house was built, in the nineteen seventies . Now it stretches skywards, far beyond the roof top. It is a fine tree that I award our second nomination.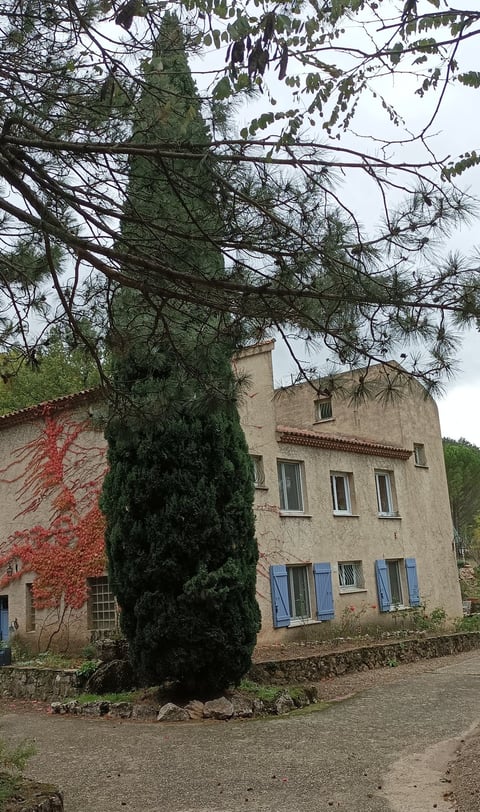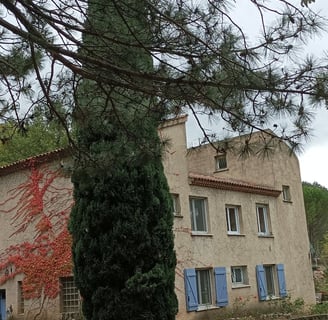 For my third tree I should like to nominate a holm or evergreen oak, the quercus ilex. I confess that I am cheating slightly, for this oak is not actually on our property, but a little higher along the forest road. I have chosen this tree because it has a mystical presence. Call me mad if you like, but I greet it every time we pass by on our walks. It is a beautiful isolated tree that stands on a corner. Its fleshy leaves are oval, and its acorns are slightly narrow and pointed.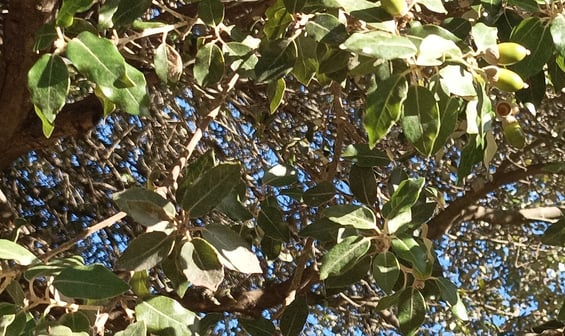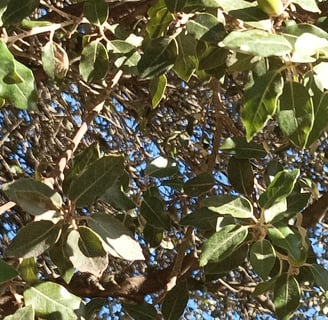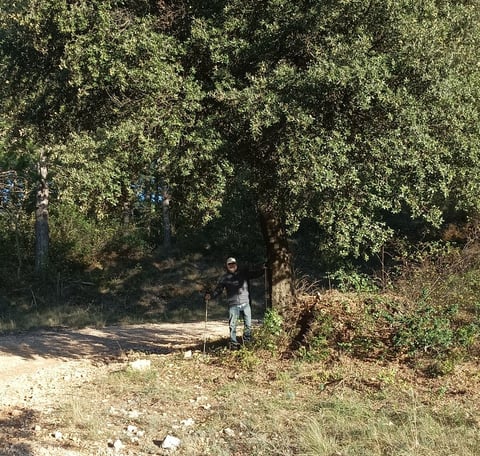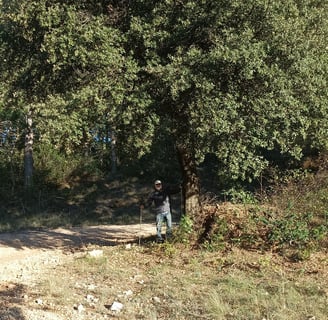 But I am not alone in feeling the mystical presence of an oak tree. In Britain the deciduous oak was revered by the Celts and Druids, whereas in Europe the evergreen holm oak is thought to convey strength. If one passes three times beneath its boughs you will be strengthened. Moreover in the nearby Roussillon area of France, children who do this will be protected from the evil eye. Is it surprising that I regard this tree with respect? It has grown slowly and guarded this corner for many years. If it should ever sicken I would be devastated. It has become our forest friend.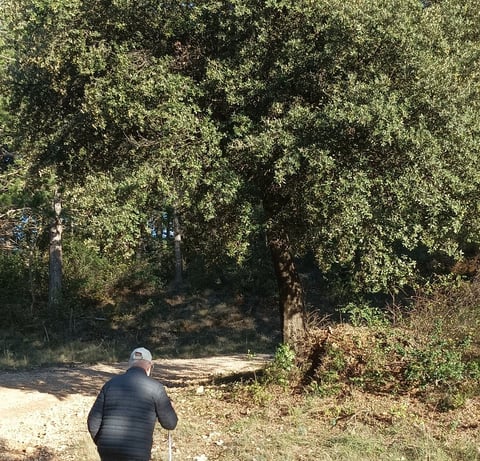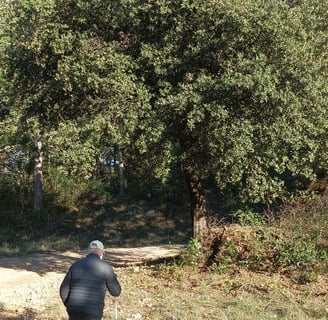 Here is B. passing three times under the quercis ilex as he recovers from Covid.
So which of these three trees would you choose: the ash, the cypress or the evergreen oak? Or perhaps you have a favourite special tree of your own. If so, I'd be delighted if you would let me know.