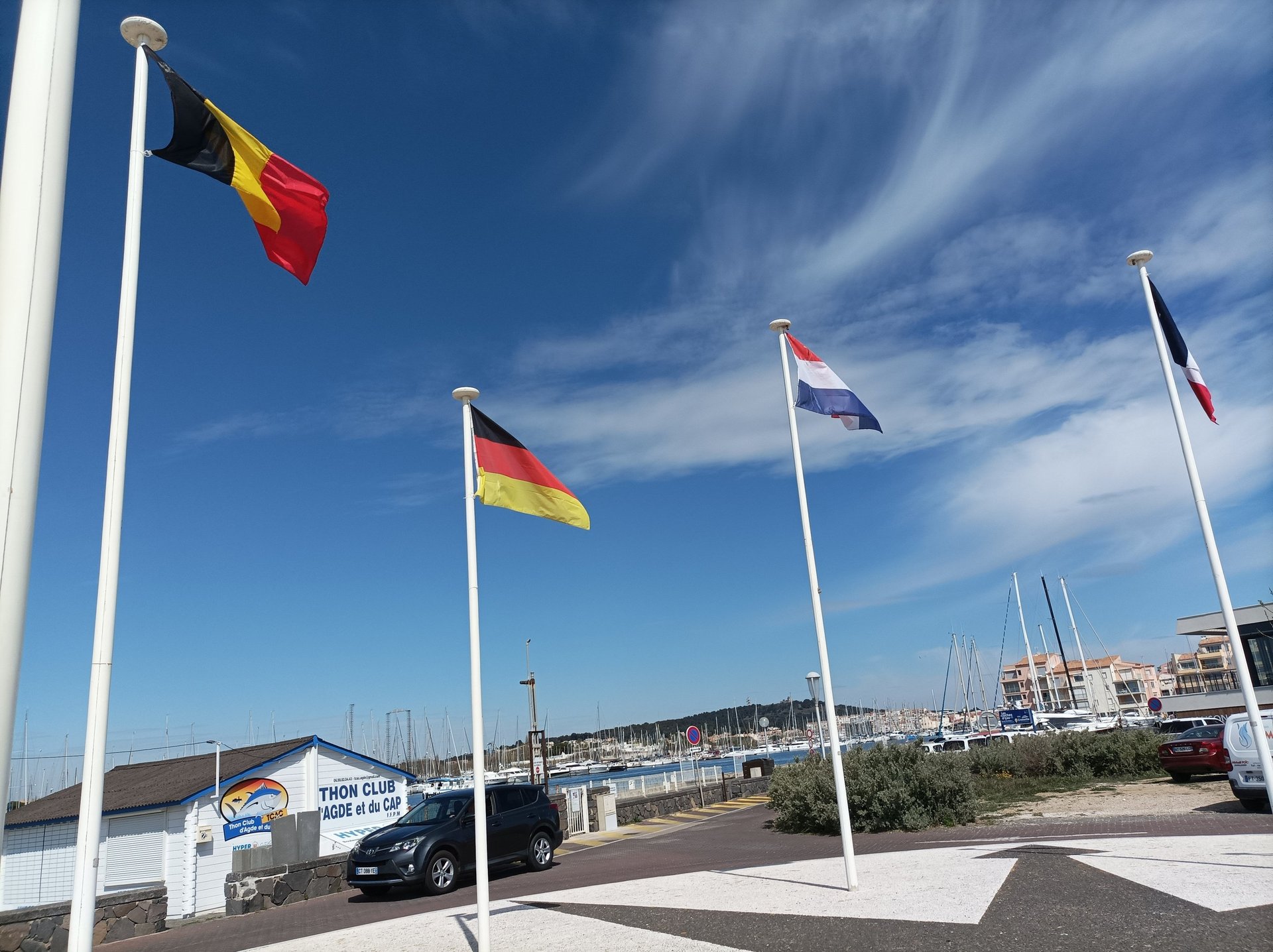 It's Easter and at Cap d'Agde the flags are flying....
but where is the Union Jack ?
POLITICSBOATINGSEASONS
Today we have returned to the port of Cap d'Agde to prepare our boat for the coming season. Things are slowly stirring as shops and cafés that had been closed up for the winter raise their shutters, and get ready to welcome an influx of Easter visitors. Sailors return to their boats bearing kärchers to spray the decks and new ropes, while a few even venture out to sea , their sails flapping as they pass us, ready to fill with wind as they reach the open sea and head off towards the horizon. But most boats, especially the large expensive ones, remain neglected still . Aeolians spin, and solar panels harvest energy fruitlessly, for these boats will lie idle for a large part of the year. Sadly, ports are like that. Many thousands of boats lie unused for long periods, witness to the gross inequalities that exist in today's world. Too many tourists can only ogle these opulent yachts and dream. But although the wind still blows chill there is excitement in the air as we anticipate the summer ahead.
The bateau bus ferries passengers to different locations around the port. It has been operating since Saturday , but the seats lie almost empty as it plies backwards and forwards across and around the bay. By Sunday however it will be brimful with tourists.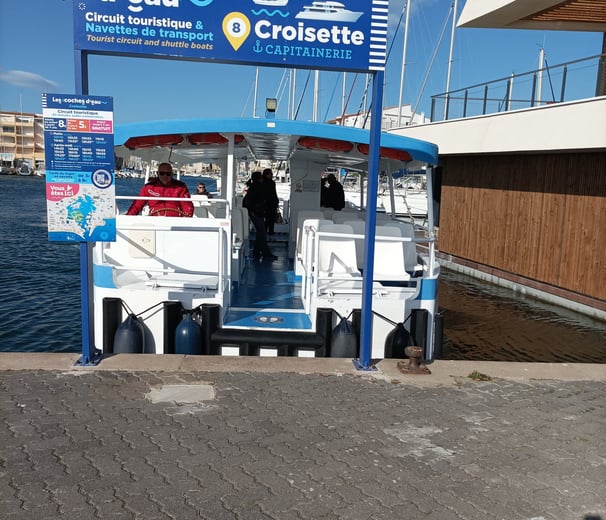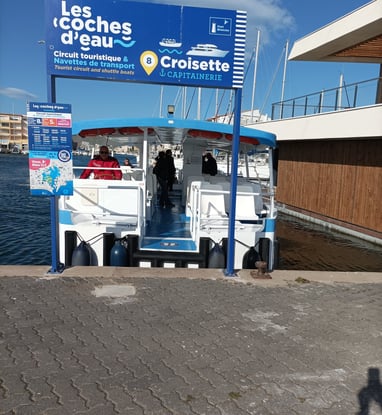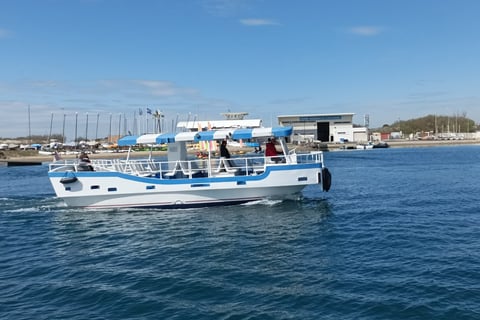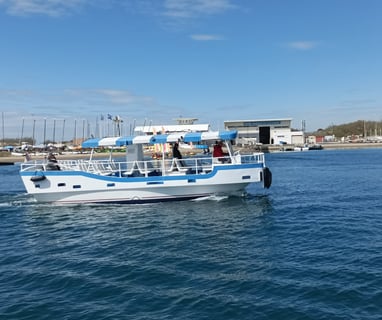 Flags are flying a welcome
Near the capitainerie , which welcomes boats into the port, a painted compass points in all directions while flags of eight European countries flutter in welcome. I search among them for the Union Jack, but I know in advance that it will no longer be there, and sadness hits me anew. Meanwhile, as a result of Brexit many would be Easter visitors to France are queuing at British ferry ports for hour after hour, as they are subjected to stringent passport checks. It is galling that so many of these people voted 'Remain' in the Brexit referendum. Last weekend coaches of schoolchildren waited to board for ten hours or more, and some even had to return home instead. Where once a simple check for the whole coach would have sufficed, now every individual passport has to be stamped by French customs officers. Britain is paying a heavy cultural price for its so called 'freedom.'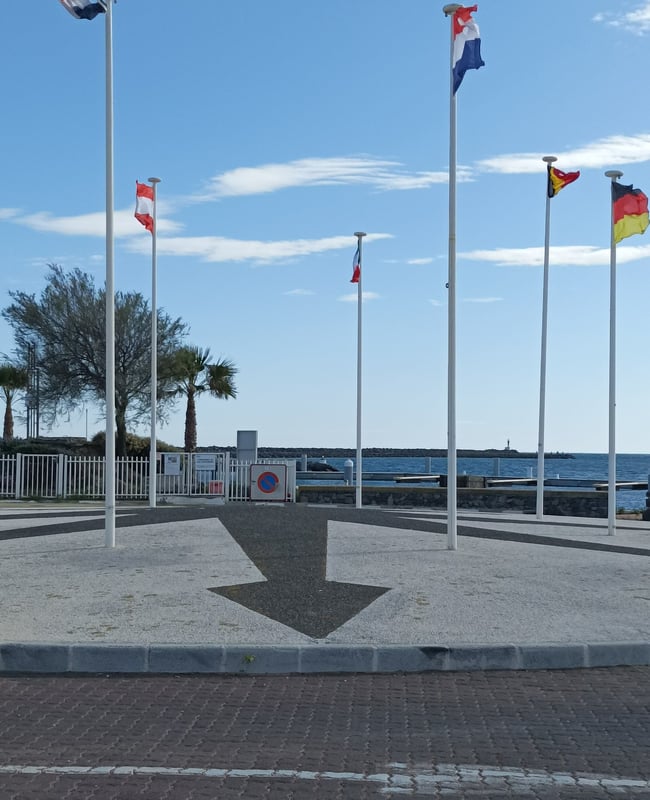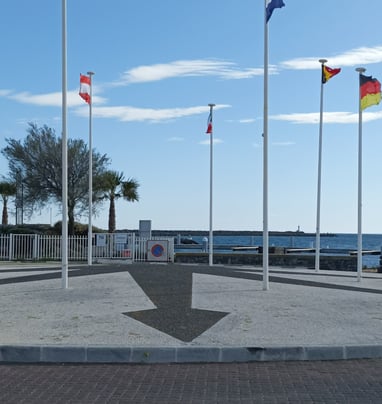 But most of the tourists at Cap d'Agde this Easter will be French , and many will be local. Today we had lunch at our favourite port side restaurant. This one is open all year round, and is frequented by fishermen and local workers as well as tourists. House sparrows and wag tails balanced on mooring ropes as they watched for crumbs and flew to dine privately aboard expensive yachts with their booty. The voices around me were exclusively French, as we ate fish freshly brought in by the local boats that morning. There is a lot to be said for 'staying local.'