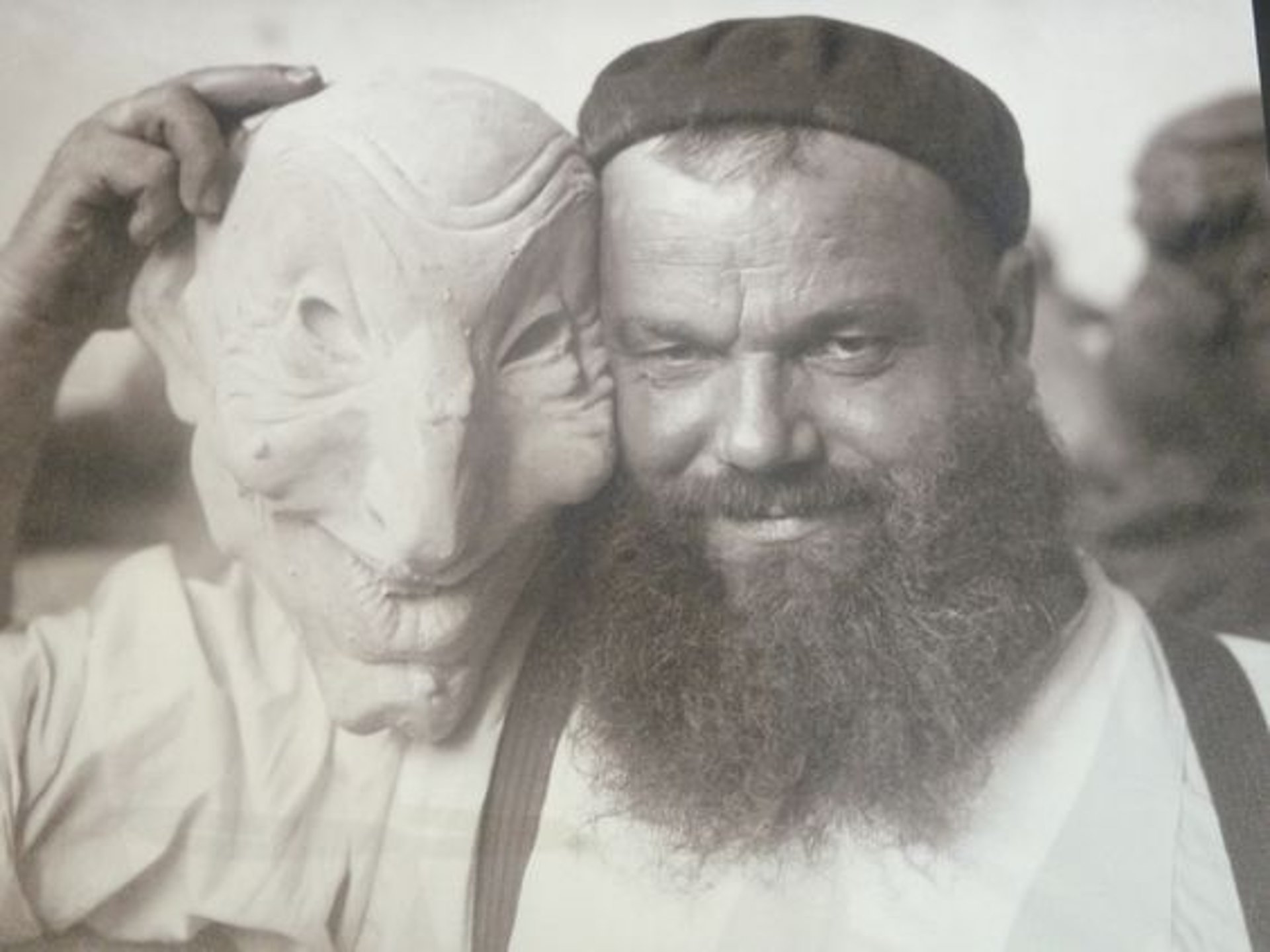 How a local sculptor was born.
Paul Dardé: the early years 1888-1921
FILMS , MUSIC, DRAMA AND ART
Imagine a boy, born towards the end of the nineteenth century, and living on a holding on the edge of Lodève, amongst the vines and his family's chickens. He loves to be outdoors, for he lives in a land of vast star laden skies, enormous rocks, cliffs and prehistoric dolmens. He is free to explore the world, and observe the wider universe. At his school for boys, his teachers , brothers from a local order, no doubt despair of him. He is a rebel and a poor achiever. After a brief spell in a seminary in The Gard at the age of thirteen, where his devout mother wished him to train as a priest, he had had enough. He packed his bags and made his own way home. And so , at the age of fourteen he became, what he delightedly describes as a peasant ,"Je suis un paysan, quoi!" But of course that was not enough for him. While he was looking after a flock of sheep, he would also carve pieces of rock that he found in the vicinity, using whatever tools came to hand, like a knife that had lost its handle; a rusty pick, or a borrowed hammer. He would also make his own colours and paint pictures on whatever material he could find, like the bottom of a casier( or wooden crate.) All the pieces of work that he produced from the age of eleven, were hidden in a local cave. And so Dardé, the unique and talented artist and sculptor was born.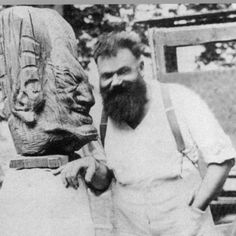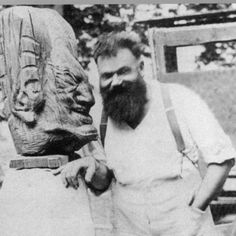 But Paul Dardé's curiosity was far ranging. In the evenings he would visit the historic town of Lodève with its beautiful Cathedral and gracious hôtel Cardinal Fleury which later became the town museum. He would read widely at the local library, and also learned to play the saxophone at that time.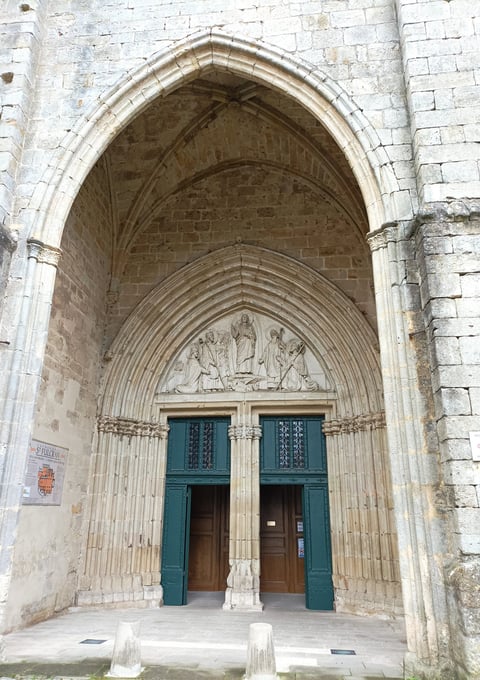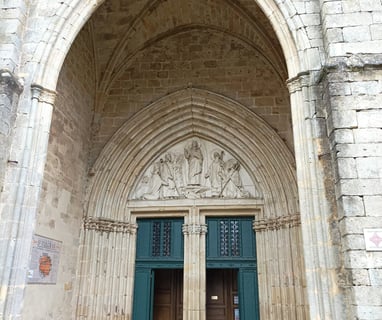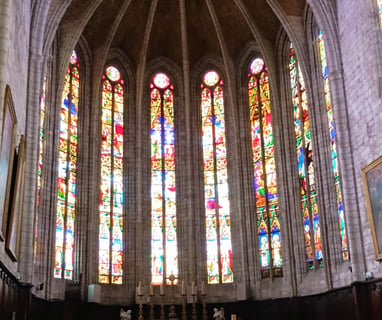 But then something entirely fortuitous happened...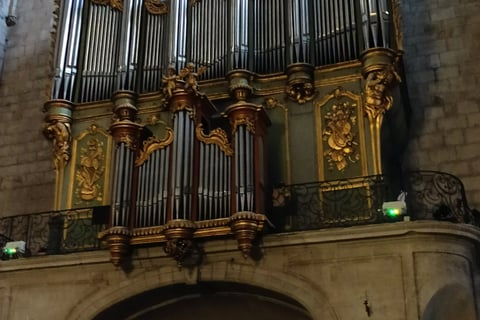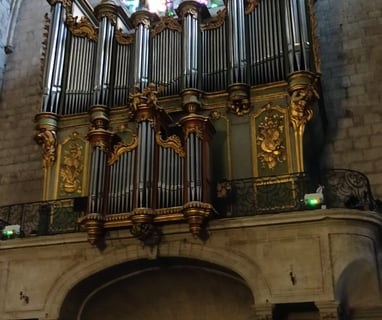 One day Paul Dardé was working on a small piece of stone outside his family home when a local notaire(solicitor) Maître Martin strolled close by. He suspected that this young man may have picked up an ancient relic or some such thing and was cleaning it off, so he went over to investigate. When he discovered the piece of sculpted stone his curiosity was aroused. Imagine his amazement and delight when the young Paul Dardé revealed his cache of work to him. M. Martin decided to introduce him to the local art teacher Max Théron, who also ran an engraving studio. M. Théron not only recognised and encouraged this young man's talent, he also sent letters and photographs of his work to Paris.
But in 1909, when Paul Dardé had achieved the age of twenty one, military service beckoned. He negotiated the right to stay in Montpellier, where he used his skills as a saxophone player in the military. But his art was not to suffer, for he was recognised by his Colonels who arranged for him to study at the Ecole des Beaux Arts in the evening. Sadly he was mocked by other perhaps more sophisticated students, but not by his tutor. Professeur Auguste Causse taught life drawing, and Paul Dardé professes a great debt of gratitude for the anatomical skills that he acquired from him. "J'ai appris à fond, à fond, je vous jure , l'anatomie." It was Professeur Causse who encouraged his student to become a sculptor.
By the end of his military service Paul Dardé was ready to 'hit the world.' He had been awarded a bursary from the Montpellier College which enabled him to travel to Italy, after which Paris beckoned. But Paul Dardé was never comfortable in Paris, though he was to be much feted and won commissions and awards. He even spent time in the studio of Rodin, whose work he greatly admired, but for him, three days there were enough. Paris was a place where people were encouraged to work towards popular tastes and competitions . It cramped his style. The war years intervened, and our hero was wounded on the front. After demobilisation in 1919 he was allotted a studio in Paris, and accepted a commission for the statue of a gigantic faune which he hoped to exhibit at a Paris salon. The enormous blocks of stone arrived for him to execute this work.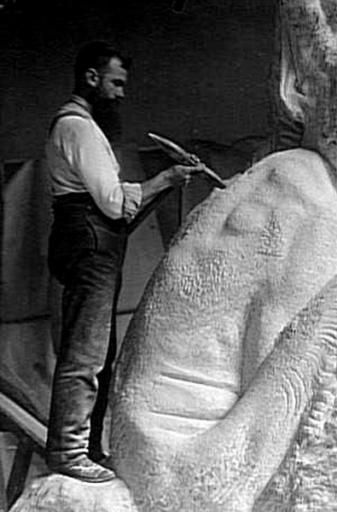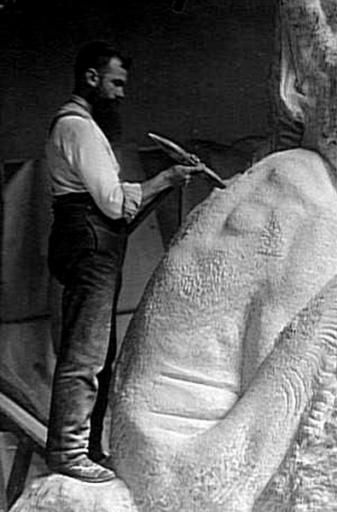 But before he began Le Faune, Paul Dardé completed another commission. He created a war monument at our local cemetery in Soubès, close to the eleventh century chapel on the top of a small rise as you enter the village.
Clearly the village lost a number of soldiers in the 'Great War,' including two brothers who died at the front, one of whom was only twenty two years of age.
Paul Dardé never fully recovered from the trauma he experienced himself at the front.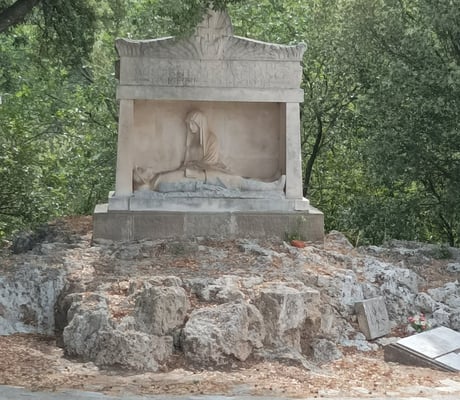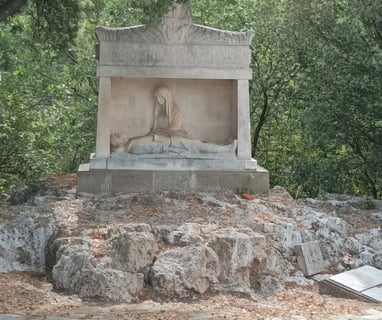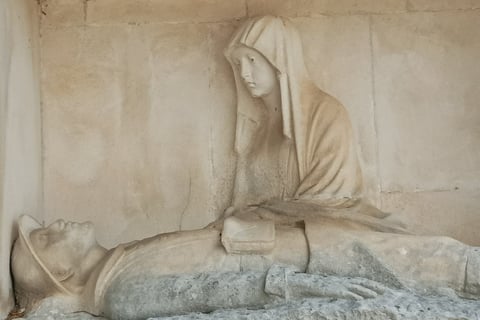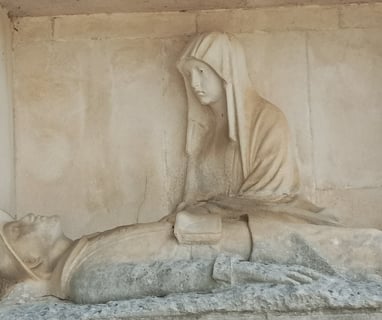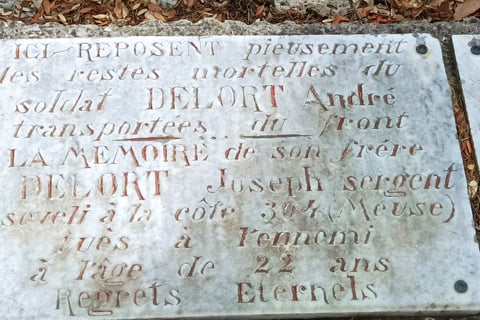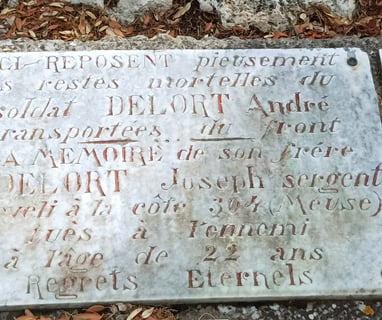 Whilst Paris , and some of the artists that Paul Dardé met there, were to be a great inspiration to him, he would never be comfortable there, and constantly longed to return home. And so , much of Paul Dardé's remaining life and work was to take place in this region. I know litle about sculpture, but I adore his work. In future blogs, let me take you on a local tour and show you more.