Hoop Hoop Hurrah for the beautiful hoopoe....
and other migrant visitors from Africa
FLORA AND FAUNA AND THE FOREST WORLDSEASONS
There has been great excitement in our household recently. Two new visitors have arrived and they are are calling to us from the surrounding oak trees with a hoop hoop hoop hoop in quick melodic succession. Hoopoes have flown in from Africa and we feel very honoured that they have decided to stay for a while. For B. they bring nostalgic memories of growing up in Zimbabwe , while for me...well...they just feel very special. We last enjoyed their presence in the summer of 2002, our first year here, when a small group hung around for a week . We enjoyed watching them early every morning as they scoured the ground for insects with their remarkable curved beaks. And then they disappeared. We have often seen them in subsequent summers as we travelled along the Canal du Midi in our old steel Dutch boat, or as we drove towards the sea. But only once, until now, have they reappeared on our side of the ridge that separates us from the mediterranean plain. Long may they stay.
...is its charming scientific name , which I confess I did not know. I doubt that I will ever forget it.
Of course we welcome other African immigrants to our shores too. Elegant pink flamingoes fly in every year , and form large colonies on the salt lagoons. But some overwinter by the mediterranean too, and so we can enjoy watching them all year round. Diversity, after all, is a great thing, even if some humans don't always recognise this.
A flamboyance of flamingoes.
The black winged stilt...
...otherwise known as l'échasse blanche, is a graceful bird that also inhabits the salty lagoons and marshland of Southern France. We often used to walk in the nature reserve at 'La Conque' on the northern shore of the Etang de Thau at Mèze where , in order to protect this precious nesting habitat, an area is fenced off between April and August. I will never forget walking there on the last day of March when a loud overhead scream indicated that a pair of stilts were flying in from Africa. I hope they bred successfully. Our subsequent boat meanderings took us along the Canal Rhône- Sète, where we frequently spotted these birds dabbling in the marsh ponds, poised on their spindly red legs like elegant ballet dancers.
Does one swallow make a summer?
Yesterday I spotted my first swallow of the year as it soared over a roof top in Lodève. The sun was shining and I felt warm. Yes...I optimistically vouchsafe that summer has arrived. It is always a sad sight to see swallows gathering along telegraph wires in autumn, but now they are heading back to us. Soon I shall be able to watch more of them playing in the air and skimming low over water as they swoop up flying insects.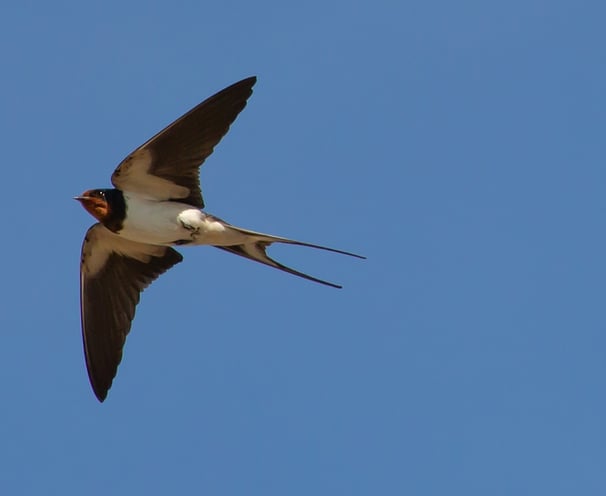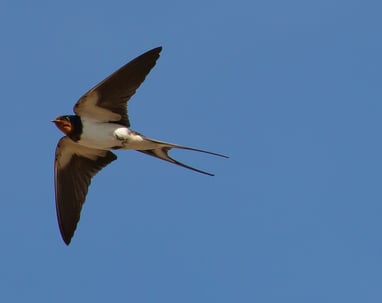 We must wait a little longer for the swifts to arrive. They will leave us a little sooner too. But I look forward to hearing that first scream, and raising my head to see a flock of swifts looping and diving high up in the sky as they seek out insects. I often used to enjoy watching them soar above the roof tops of Lodève in the early evening. Sadly this has become a less common sight recently. Clearly the swift is an endangered bird in France, as it is in the U.K., where breeding numbers have fallen drastically.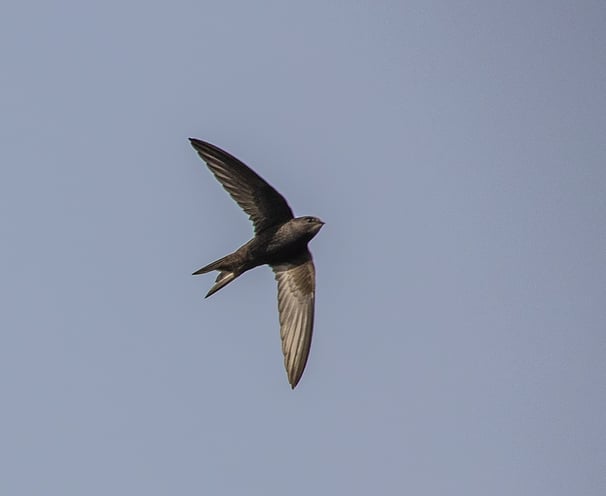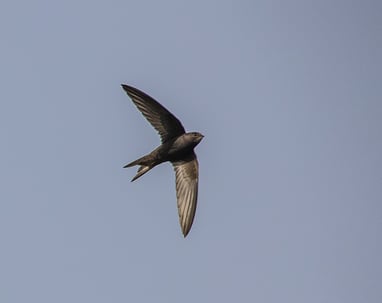 And last but not least...the stunning bee eater.
The bee eater makes up for its modest size with its brilliant plumage. This is a bird that I first spotted in South Africa. They were nesting in a sandy bank at a game lodge where we were staying , and they seemed very exotic. It was thrilling to see them subsequently in France where one can spot their burrows along the sandy banks of the Canal Rhone- Sête, or occasionally see them in flight. Imagine then our excitement when late last spring a team of five or six bee eaters landed in our garden one morning. They spent the next couple of hours noisily warbling in two trees close by. Then , fully rested, they flew off. It felt like a rare but very special privilege . Although they are more commonly seen around the Mediterranean , their range within France has increased recently. I often wonder where they were heading.