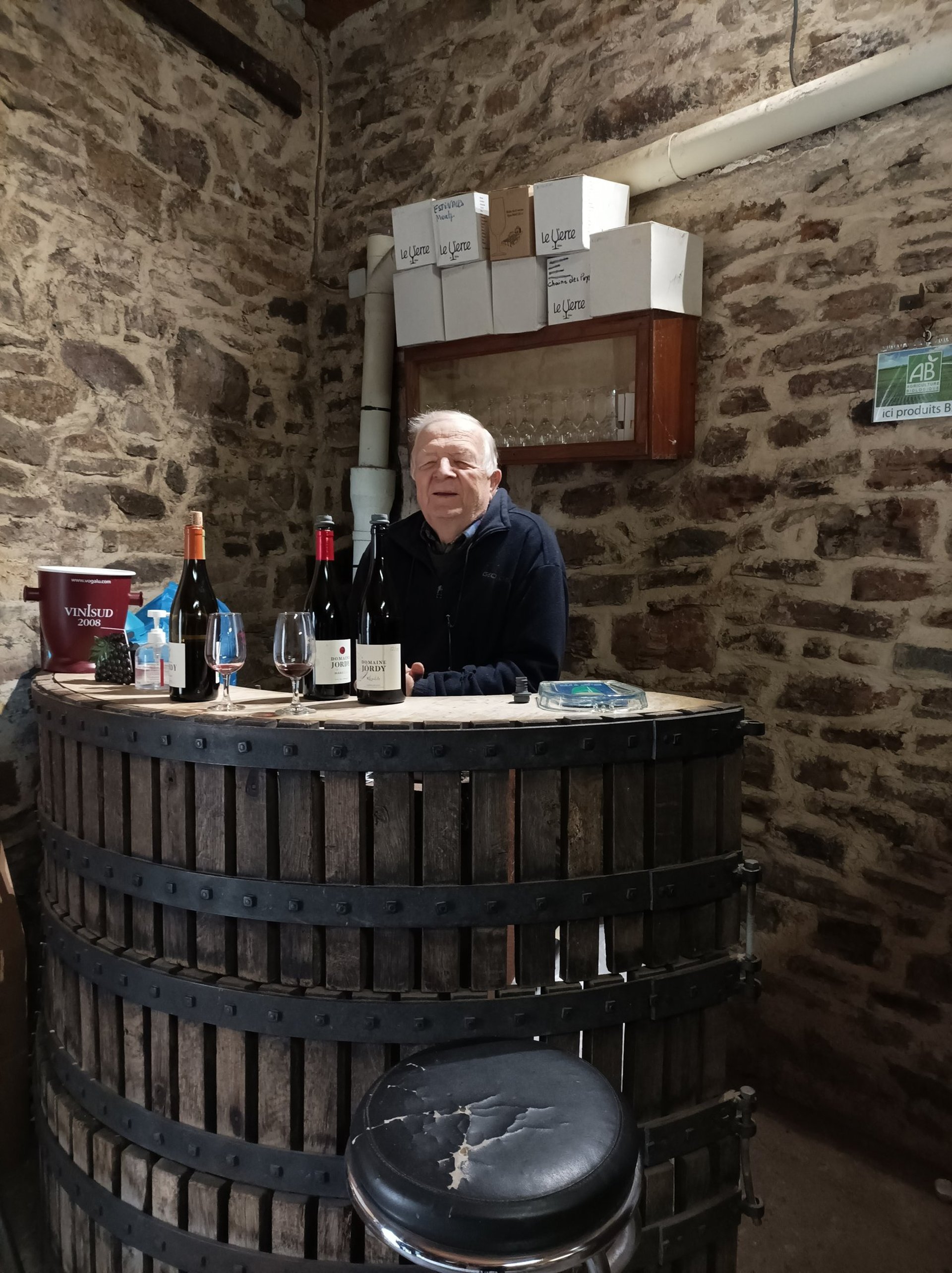 Domaine Jordy
Where do you like to buy your wine?
FOOD, WINE AND HOMEPEOPLE AND RELATIONSHIPS
With a trip to the U.K. in the offing, we decided to purchase some wine to take with us . On this occasion the supermarket would not do. We just had to visit our favourite wine domaine, 'Domaine Jordy.' There are many small family run domaines within this region, but we first visited 'Domaine Jordy ' on the advice of a friend , over twenty years ago. If we want something a little special to keep in our cave for a while, this is where we go. M. et Mme Jordy had recently been joined by their son Frédéric, newly returned from a spell learning about the American wine trade in California. But it was M Jordy senior who welcomed us today into his tiny cave to taste some wines . A cold wind was blowing through the tiny village of Loiras as a pale wintry sun tried to break through the clouds. I remembered our last visit one bright autumnal day, when the tiny houses were still baking in the fierce sun, and the vendange had begun. Frédéric was in the vineyards, while Mme Jordy came to welcome us. She had paused at the outside tap to wash off the remains of mangled grapes , and as she poured us wine to taste, we saw that her forearms were stained deep purple.
Today the water in the outside tap remained icy cold.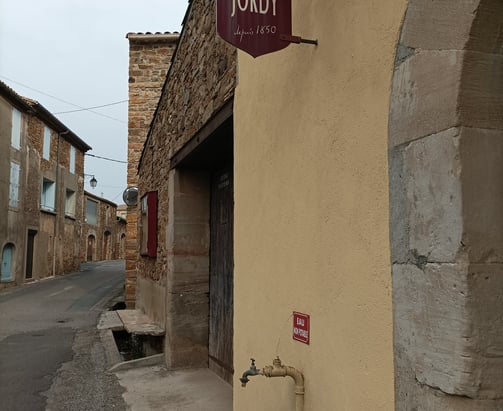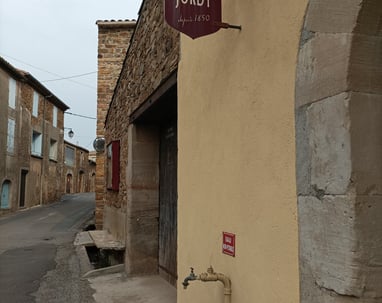 Now to choose our wine....
There are many excellent caves cooperatives around us where one has the pick of the very best wines from various domaines. The choice at Domaine Jordy is small , but reliable. Sometimes there will be a new wine , perhaps an experimental combination or a new variety of grape. Our friends had told us of a delicious new wine that they had recently discovered there, called Capitelle. Alas, it had all gone. That is the nature of a small domaine. We tasted their remaining selection of three red wines and a beautiful delicate white wine with hints of licorice, and reader...we bought some! Had we been looking for a more basic everyday drinking wine, we could have filled up our own 'bidon' at €2.10 a litre. M. Jordy told us that they had achieved 'bio' status for their wines three years ago, while the transition period had taken a further three years before that.
You may notice a small bucket on the counter alongside our selection of wines to drink. When I first came to live here, it used to puzzle me that anyone should wish to tip the remaining wine from their glass into this, before tasting another. But now I am accustomed to it. However , I do not follow the procedure of experts who swill the wine around their mouths before spitting ostentatiously into the aforesaid bucket. What a terrible waste!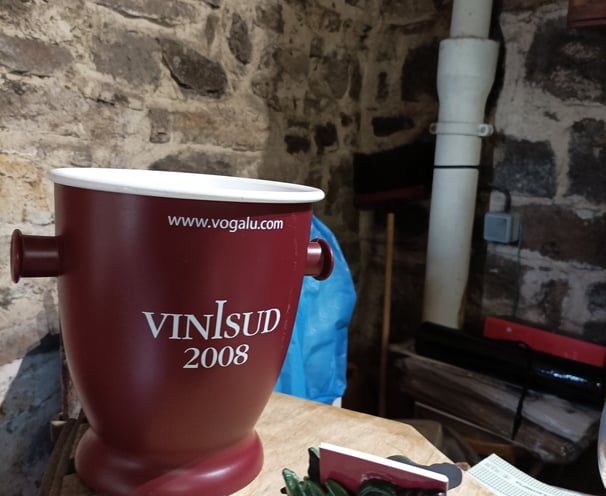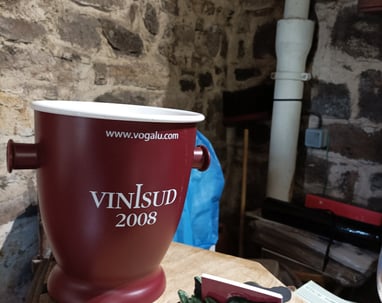 As we left the village I stopped by the village church yard to gaze over the vineyards, and towards the small range of hills beyond, which is crowned by le 'Roc des deux Vierges.' Such a beautiful sight. When one opens a bottle of ' Jordy' one gets so much more than just wine.