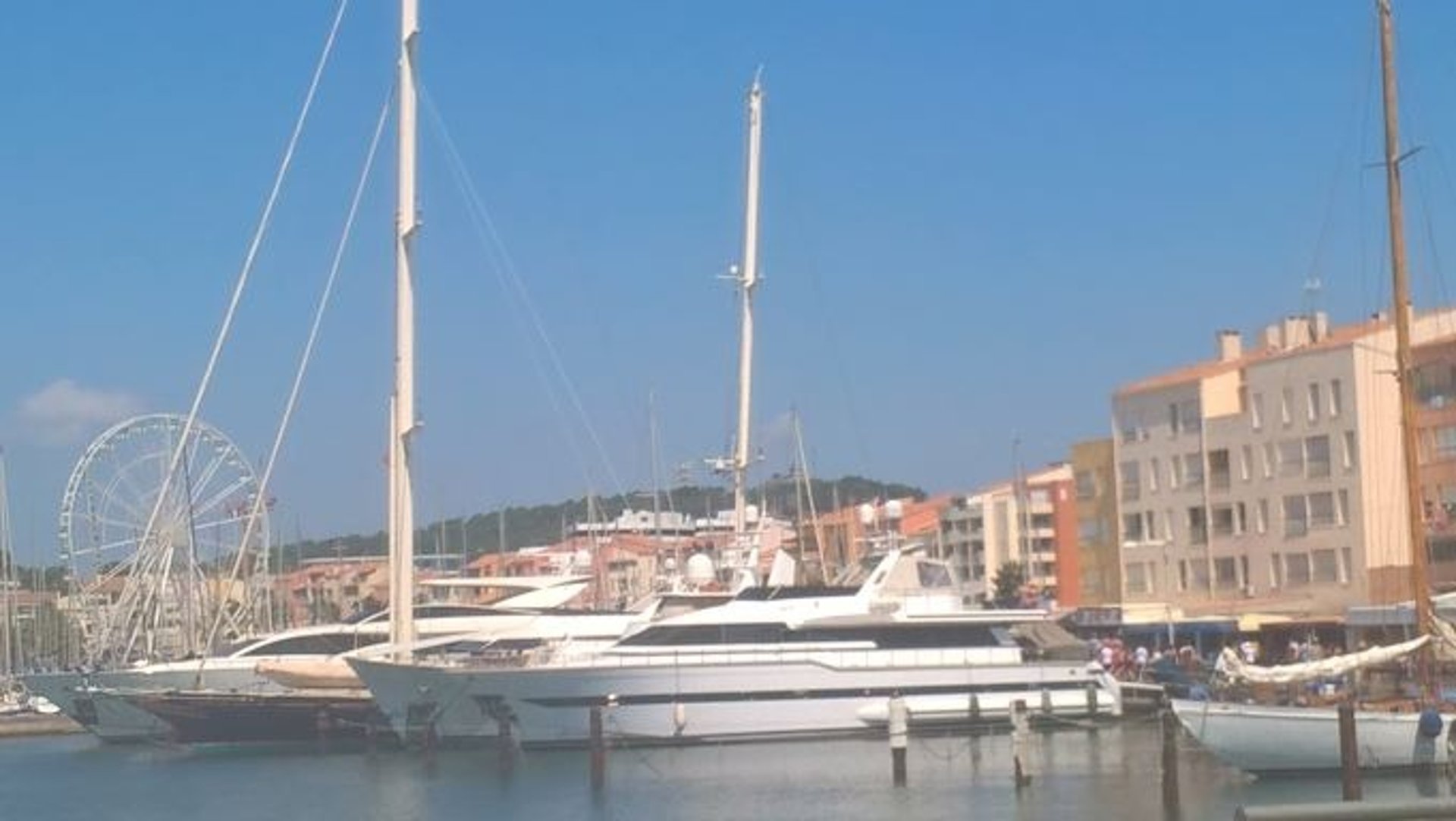 City, Countryside or Dedicated Resort?
Where should we spend our holidays?
BUILDINGS AND ARCHITECTURE
Have you heard the phrase airbnbisation? Thanks to letting platforms such as airbnb many properties in cities and scenic areas are being bought up in order to let out on the holiday market . This disrupts communities and disturbs the nature of towns, cities and villages. Moreover local people can no longer find affordable places to rent or buy in their own home towns. Cities like Barcelona, Paris, London and Rome have all been affected, as have areas of Cornwall and West Wales. But authorities are fighting back. For some time Paris has insisted that people may only rent out their own home, and for no more than 120 days per year. " But what about our holidays?" I hear you cry. It would seem that we all wish to travel more widely and more frequently nowadays, and most of us demand affordable accommodation. Clearly tents, caravans, hotels and holiday parks are insufficient to meet this need. One solution has already existed in Hérault for over half a century. Voilà Cap d'Agde, holiday resort for the many. Let's take a closer look.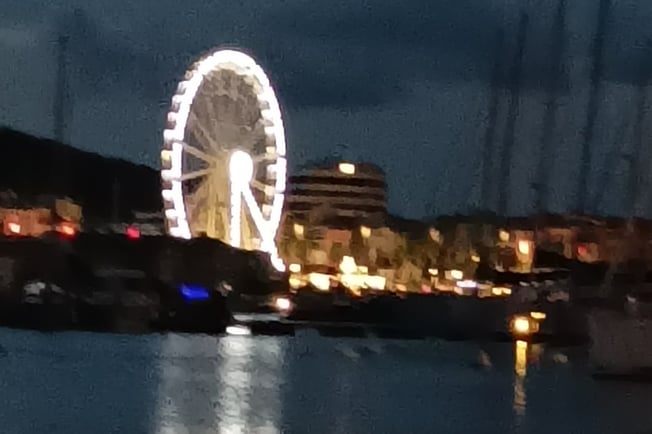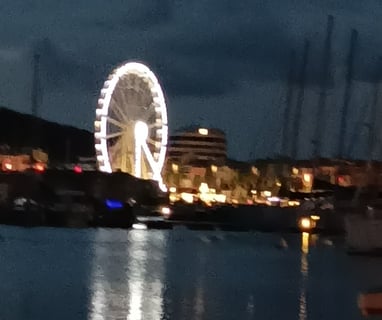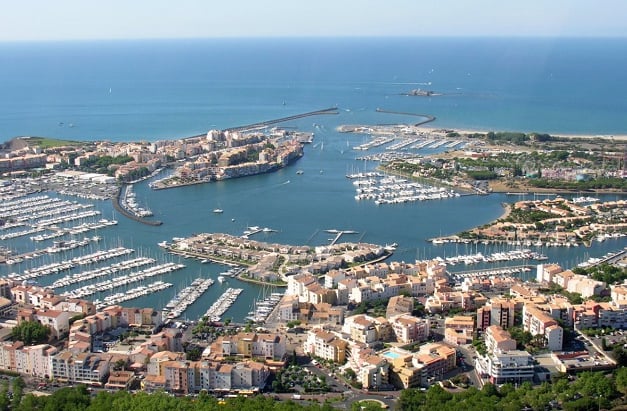 The first buildings in Cap d'Agde were inaugurated in 1970 . Since then the resort has expanded exponentially . An enormous artificial harbour was dug that can now accommodate well over 3,000 boats. As well as boaters, holidaymakers converge every year to stay in one of the thousands of low rise apartment blocks. At peak season the population of Agde conglommeration expands from 25,000 to 250,000 or even 300,000, offering visitors a possible 15 million nights of individual accommodation per year. In addition to the many beaches that line the Agde coastline, some of them which form a naturist resort, holidaymakers are able to enjoy such pleasures as discotheques , a casino , a fun fair and a ferris wheel .
Did I hear you groan? Perhaps like me , you feel that a resort like Cap d'Agde is not to your taste. But let us look a little closer. We came to Cap d'Agde as it was the first place that we could find that would offer us a permanent boat mooring. As you may imagine we found the dense housing and busy roads quite depressing. But as I have come to know Cap d'Agde better, I have been impressed by the thoughtful planning that leads people seamlessly from the commerces of the busy port, to beautiful beaches, cliffs and headlands. Once they have arrived , visitors can leave their cars behind. The roads are lined with palm trees, and pavements and quaysides are attractively paved in local basalt. We notice how most accommodation units have views over water, be it port or ocean, while some have small communal outdoor areas, boules courts or Italian style piazzas where people can gather. For families looking for affordable accommodation with lots of entertainment , then Cap d'Agde fits the bill. There's even a brand new casino , if that should be your style.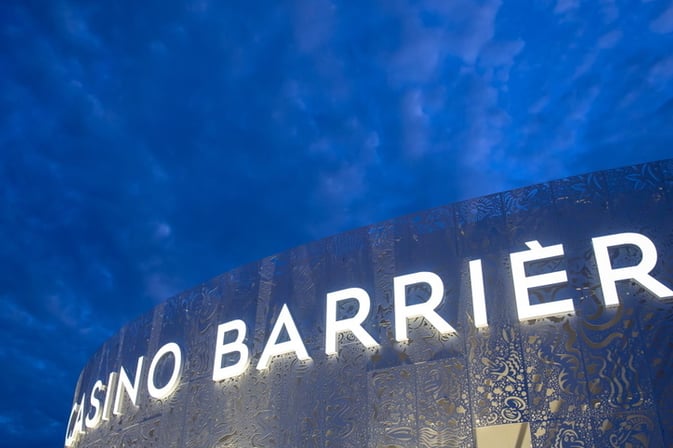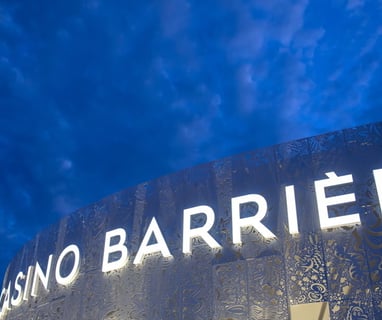 That is all very well, but let's stop and think about this for a moment. While Cap d'Agde can certainly offer copious accommodation for visitors, the fact that the season is exceedingly short makes me uneasy. In July and August the numbers swell with the heat, and things are buzzing. But for much of the year the resort is much quieter and most of the accommodation lies empty. Only 15% of the population of Cap d'Agde is permanent. Shops and restaurants remain closed, and blinds are down on most of the apartment windows. Does that not seem a terrible waste, in a world where so many people are homeless ?
Moreover, things are no better in the boating world. While over 3,000 boats throng the port, for most of the year these boats lie unloved and unused. We recently visited our boat there. Amongst the 166 small to medium sized boats moored along our side of the canal, only three had left their berths, and a further two were occupied that night , in addition to our own. Even "millionaires' yachts" worth a large fortune , rarely move from their berths. Shame on our unequal world where people starve, while others gorge and discard their surfeit.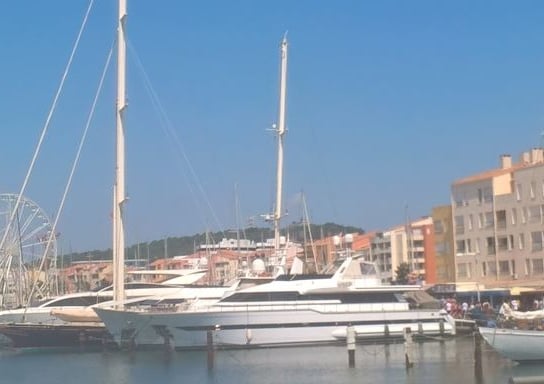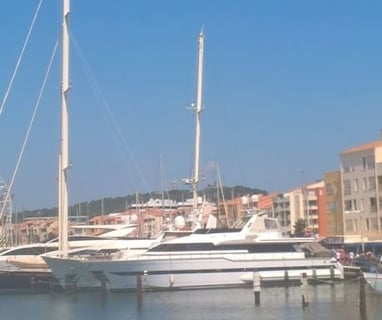 But every cloud has a silver lining...
Our recent stay at Cap d'Agde in early June proved to be very enjoyable. The weather was warm ; our favourite restaurant at the end of the quay was open, and there were plentiful supplies of fish for supper at the daily fish market. What's more, only a few yachts and wind surfers were out at sea. The July frenzy of jet-skis and speedboats was nowhere to be seen as we headed out through the stone breakwaters for a trip. Back in port the next morning , the apartment buildings opposite our mooring were transformed into a work of art as I gazed at their reflections on the water , while at night the air was still warm as the sun set.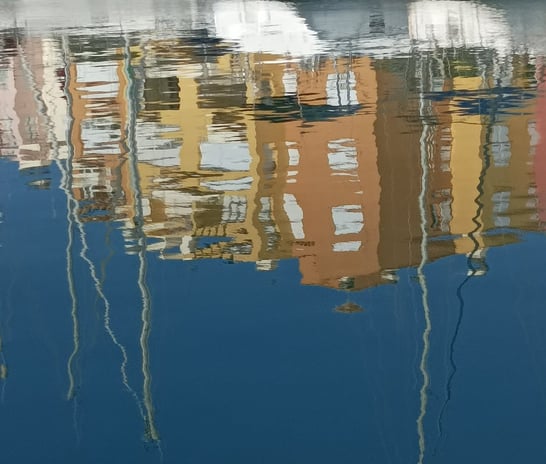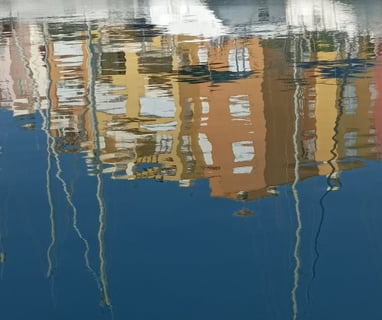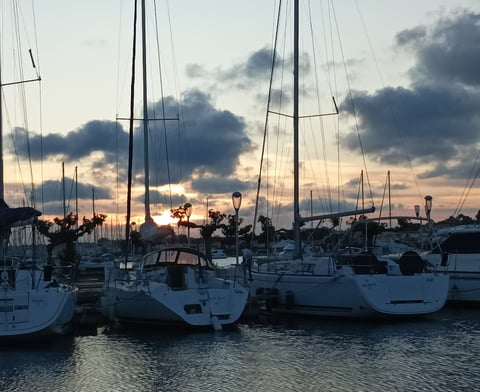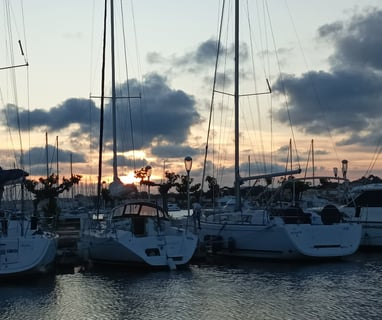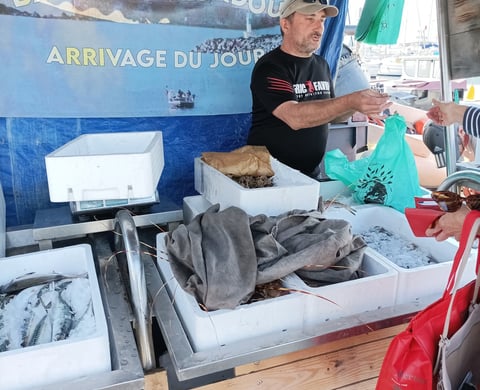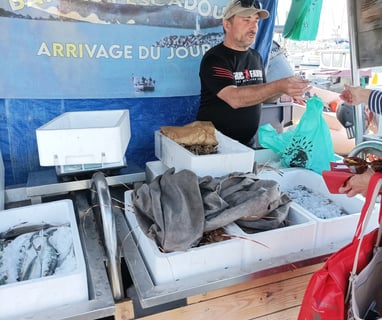 So are large resorts the answer to our accommodation problems?
Travel uplifts us and broadens our experiences. It would be sad if opportunities for travel were limited to those with copious funds, and yet we should be actively protecting communities from airbnb type disruption. As for large resorts, while they do serve a useful function, they are not to everybody's taste. Moreover they would seem to be an extremely inefficient use of resources. Some Universities maximise profits by letting out rooms in their Halls of residence every summer. Why don't we 'think outside the box'? A brand new 'University of Cap d'Agde,' with its colourful student winter residences, and lecture halls in the Casino, could be a winner. And to help ease the pressure on other communities, and bearing climate change in mind, should we not begin to ration our travel, and enjoy our own localities more?